PLAY LIKE A GIRL
The phrase "you play like a girl" has long held a negative connotation, portraying female athletes as slow and weak.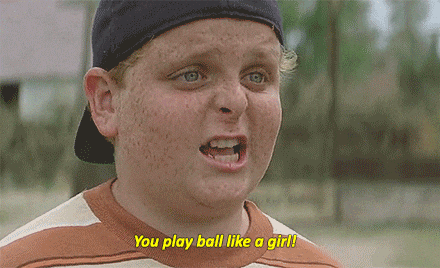 However…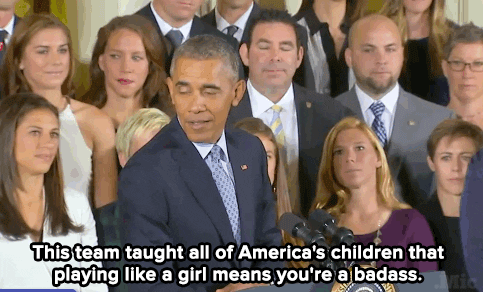 For all the athletes out there, you know the commitment, the practice, and pure dedication needed to do well in sports. Embrace the sweat, the tears, ever so messy hair. Embrace your well-defined muscles, your athleticism. Embrace the fact that you are of a different kind, a special kind.
---
You are not one of the best female athletes. You are one of the best athletes. Period.
---
Playing like a girl isn't a math problem.
To clarify, it isn't an inequality from Algebra 2
Playing like a boy is not greater than playing like a girl.
Playing like a girl means bringing home Olympic gold medals, National and World championships, and inspiring future generations of athletes, just to name a few.
It means playing the best the world has ever seen.
---
THEY

'

RE
ALL
*
GASP
*
LESB

IANS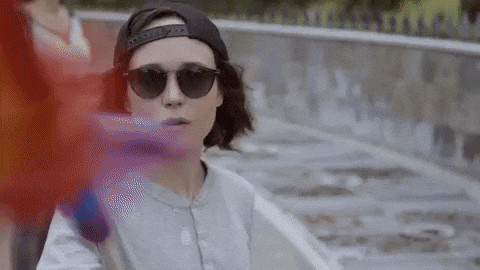 Another is the stereotype that female athletes are all lesbians. Don't get me wrong, the problem isn't being gay (or any other sexuality/gender identity), but rather the true effect of this stereotype. Let me assure you that this stereotype wasn't created as a comment of acceptance, but rather formulated to take on a negative connotation by those uncomfortable with the fact/or blind to the fact that not all female athletes who encompass the changing gender roles, masculinity, and competitiveness in 21st century sports are gay.
This stereotype allows people attribute having a strong build or dressing more
androgynously (ex. USWNT Goalie Ashlyn Harris wearing suits) with the comment "oh, they're gay", while consequently undermining the personal femininity/masculinity of women. Considering there are several LGBT athletes who would be considered more "feminine" and several straight athletes that would be considered more "masculine", associating one's self-expression or superior athletic skills with sexuality is harmful.

Straight or in the closet females might not be ready to deal with the discrimination and harsh labeling that can occur to those who identify as LGBT, causing them to possibly not pursue a sport or change their personal identity to fit societal expectations of women. Although sports has become a much more accepting place than fifty years ago, homophobia, biphobia, and transphobia still exist in locker rooms and on sports teams.
---
ICE HOCKEY
Nora Cothren in Action at Smith College
For example ice hockey player, Nora Cothren, played on a hockey team of girls who hated the stereotype that athletes were considered "gay" Hence she did…
---
"…everything I could do to make them believe I was straight."
---
She faked an obsession with CHANNING TATUM to pull that one off. Having to pretend messes with anyone psyche's, and it pains me to hear the emotional pain she suffered having to pretend to be someone she was not. 
Cothren's experience subsists in several different sports teams, and due to her belief that her high school club team harbored homophobic feelings, she didn't come out until outed in her senior year. The reaction she received did not go as she expected, Cothren received nothing but support and acceptance from her team.
This entire scenario can be attributed to the stereotype, as if the stereotype didn't exist her teammates wouldn't have made casual slurs/homophobic language that Cothren feared. Her teammates are not homophobic, but were ignorant of the fact that no one ever knows who is listening. One can only hope that scenarios like this don't happen again.
Now, while there are plenty LGBT athletes in athletics,
such as WNBA player Elena Delle Donne and fiancé Amanda Clifton, there are also plenty who are happily in heterosexual relationships, such as recently retired UWNT soccer star Lauren Holiday and husband Jrue Holiday. All in all, the sport you play doesn't determine your sexuality. Preventing this stereotype from manifesting will create a safer environment for both straight and LGBT athletes.
This stereotype is insensitive to both straight athletes and LGBT athletes, and prevents a supportive, accepting environment from manifesting.
---
"Once it feels OK to talk about homophobia in women's sports and athletes can come out without feeling like they are perpetuating a hated stereotype, the walls will come tumbling down."

-Nora Cothren
---
CITATION:
Cothren, Nora. "As a Lesbian Athlete, I Am More Than a Stereotype." The Huffington Post. TheHuffingtonPost.com, 13 Feb. 2014. Web. 30 Jan. 2017.